8 Tips for Parents of Teen Drivers
Posted on March 15, 2018 by Lenz Balder
It's finally happened – your baby is old enough to drive a car. This is bound to create a bit of anxiety for most parents. You play a big part in keeping your teen driver safe. To help, we have put together a list of tips for parents of teen drivers!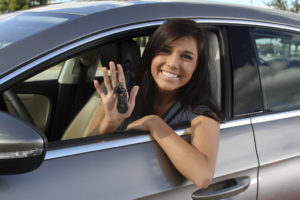 Start Small: Have your teen drive short trips on less busy roads to build their confidence before tackling long drives on busy highways. It might be tempting to have teens gain experience long road trips but save those drives for more experienced teen drivers.
Provide supervision: Make sure to give your teen gentle advice and constructive critiques of their driving while you are supervising. Try to stay calm and do not shout out directions.
Prepare for accidents: Make sure your teen knows exactly what to do in the event of an accident. Having an auto accident is unsettling if your teen knows who to contact and the correct numbers to call, they will be more apt to be calm.
Set a good example: If you teen watches you speed, run red lights, text while driving, or exhibit other signs of aggressive driving or road rage, they will assume the rules do not matter. We all know our kids mimic our behavior. Think of yourself as a road role model, and drive that way.
Have a zero tolerance for using technology while driving policy: We live in a world of technology that includes smartphones, smartwatches, and tablets. That means countless new distractions for drivers. Make sure your teen understands the dangers of distracted driving. You can learn more about distracted driving and tips on avoiding it here.
Limit Passengers: Statistics show that more passengers in a vehicle the higher the fatal crash risk. With three or more, the fatal crash risk is about four times higher than when a beginner drives alone. Studies also show that teens with passengers are more likely to take risks and be distracted. It is a good idea to limit the number of passengers with beginning drivers.
Drive a safe car: Provide a safe car for teens to drive that is easy to maneuver, with airbags and good tires. You may be tempted to purchase a "beater" for your teen or pass on a hand-me-down. Likely, those do not have the latest safety features such as electronic stability control and side-curtain airbags that are especially important for young drivers.
Have Tissue Handy: Nothing can prepare you for the first time you see your child drive away without you in the car. But rest assured, you have prepared your teen for this and they have all the tools they need to be successful!
Lenz-Balder is available to assist you with insuring your teen driver and answer any questions that might arise. Click here to learn the basics on guiding you through the process of insuring your teen.