Teen Drivers
Teen Drivers Auto Insurance
It is important to notify your agent when your teenager reaches Level 2 of the MIchigan Graduated Drivers License system so they can be added and rated on your policy. Failure to notify your insurer of your new teen driver could result in your insurance company retroactively rating your policy for the additional driver, causing a large amount of premium being owed on your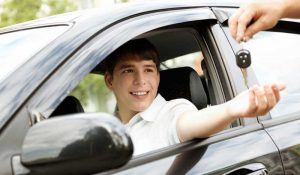 next premium billing notice. Your insurer could also deny a claim or cancel your policy if you fail to notify them about all licensed drivers in the household, including teenage drivers.
Adding a teenage driver to your car insurance policy will raise your rates. But you can have some control how much they'll climb. Having teens drive a Camry rather than a Corvette, encouraging them to bring home report cards with straight A's, and urging them to keep their driving records clean can all have a major impact on rates.
Putting your teen in a big, boring vehicle is going to be a lot easier on the wallet than giving them the cool car. There is a reason teenagers cost more to insure. New drivers are considered among the most dangerous on the road, racking up tickets and accidents at rates several times the rate of the average driver.
Here are some basics  to guide the process of insuring your teen driver:
Yes, you have to insure your teen driver
Choose a car that is more economical to insure
Ask about discounts (typically good students can get one)
We can shop around for you to find the best rates
Consider revising coverage and deductibles to help with rates
Frequently Asked Questions :
Why do teen drivers have, on average, higher insurance rates?
New drivers, particularly young drivers, have higher insurance rates for 2 reasons: inexperience behind the wheel and immaturity. Just like anyone attempting to master a new skill, teen drivers tend to make mistakes and take risks that more experienced drivers wouldn't. And increased risks translate to increased insurance rates.
Should teen drivers get their own policies or go on their parents' existing policy?
That depends on the circumstances. When researching how to insure a young driver, check with your current insurer to see how each option will affect your rates. In most cases you'll save more by adding your teen to your existing policy, especially if you're adding another car for him or her to drive – which can help you get a multi-car discount. Keep in mind that the car needs to be title to you in order to add it to your policy. Also, if you do add your teen to your policy, his or her driving record will affect your rate.
Do I need to add my teenager with a learners permit to my policy?
In most cases, your policy will protect your young driver until he or she is licensed. Some insurance companies require that they be notified once a driver receives a learner's permit, while others require notification when a driver receives their license. It is important to check with your insurance agent to find out your company's requirements.
There are a lot more that goes into insuring Teen Drivers than what we can put here.  Just contact us and we will be glad to help.