Spring Cleaning Tips to Help Avoid Filing an Insurance Claim
Posted on April 16, 2018 by Lenz Balder
There may still be a chill in the air, but rest assured, spring is coming! Spring is a time for new beginnings and that includes cleaning and organizing your home. While you are cleaning your home, why not take some extra time to double check these often-forgotten tasks and possibly avoid filing an insurance claim this year.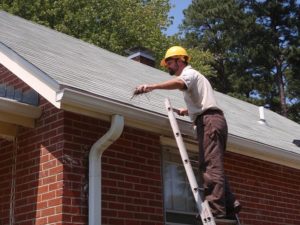 Clean Gutters – In order to avoid any leaks in your house, clean out all gutters and downspouts. Leaves and debris can build up and block rainwater from draining properly.
Clean Dryer Vent and Hose – Although it is important to regularly clean the lint trap of your dryer, it is a good idea to clean out the dryer hose and vent, as well. The build-up of lint in the hose is a fire risk, as it warms up the dryer runs.
Change Air Filters – Replace the filters in your furnace and air conditioning unit. This keeps the air your family breathes cleaner and healthier, reduce energy costs and extends the life of your units.
Check Batteries in Detectors – Even if the batteries are still working in your smoke and carbon monoxide detectors, use this time to replace them. It's better to have fresh batteries than have them fail when needed. It is recommended that you change the batteries twice a year, your yearly spring cleaning is a good time to do this.
Check Property for Potential Hazards – This is a good time to walk your property and fix any potential hazards that may have popped up over the winter. Look for any broken branches on the ground, dead branches hanging from trees or cracked and broken walkways. Fix these issues before anyone gets hurt.
Check your Insurance Policies – Don't forget your insurance policies, they may need to be dusted off and refreshed, too. Reviewing and adjusting your insurance coverage is an important part of overall financial planning. For help securing the right policy for your needs, contact Lenz-Balder Insurance today.